PRS Dead Time Seance – July 9th
July 9, 2011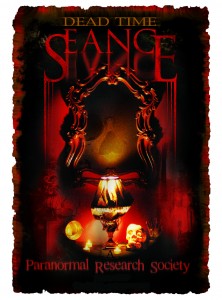 custom coursework
Come join the Paranormal Research Society for an evening of conversation, both with members of the cast of "Paranormal State" and with the spirit world. This event will be held at the PRS office in State College, just a few miles from the Penn State campus. Séance sessions will be held Saturday, June 25th, with two sessions offered. The number of tickets to each session will be limited in order to provide an environment more conducive to spirit communication.
The first portion of your visit will include a discussion of the history of the séance and modern day spirit communication, as well as a review of guidelines for your séance participation. There will also be time for PRS to address any questions or concerns you might have. Light refreshments will be provided.
The spirit communication sessions will be held in PRS's specially created séance parlor.
After your session, there will be time to talk with your séance director and fellow participants about your experiences.
***SCHEDULE***
SATURDAY, JULY 9th, 2011
SESSION ONE
8:00p-8:30p Meet and Greet, Presentation, Guidelines, Q&A
8:30p-9:30p Séance
9:30p-10:00p Discussion/Follow-Up
SESSION TWO
11:00p-11:30p Meet and Greet, Presentation, Guidelines, Q&A
11:30p-12:30a Séance
12:30a-1:00a Discussion/Follow-Up
***DETAILS***
TICKETS
http://prsseance2.eventbrite.com

LOCATION
The event will be held in State College, Pa., at the PRS Office. Exact address will be provided after ticket purchase.
OTHER RULES & SPECIFICS
-Ages 16 and over are welcome. Anyone under 18 must be accompanied by a parent/guardian. Photo ID must be presented upon arrival.
-Please do not drink alcohol, or partake in any other mind-altering substances, prior to your session.
-Be respectful of your hosts and fellow participants.
-Show resepect to the spirits with which you are attempting to communicate.
-If at any time you feel uncomfortable and wish to leave the room, please notify your séance director immediately.
-Allow your séance director time to open the room to the spirits before attempting to communicate. He/she will let you know when it is time to begin.
-Wait at least 10 seconds between questions to allow the spirit(s) time to answer.
-Speak clearly in a normal tone of voice. Please do not whisper as this can cause confusion for others in the room.
-If there is a noise you can explain, please speak out (i.e. stomach growling, chair squeaking).
-There will be time for questions and comments after the séance. Please wait until that time to share any observations or inquiries you might have.
-We reserve the right to remove any individual who is causing a disruption to the group.
-We request that you leave promptly after your session in order to avoid disruption to the next group.
Please note that this event is for educational and entertainment purposes. PRS does not and cannot guarantee communication with the spirits.